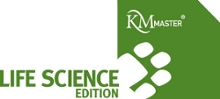 Product development in life sciences industry is determined by the need to adapt to evolving regulatory environments and high quality standards within all development sectors. The systematic retention of product knowledge and experiences is an essential milestone to improve the development processes and to combine different knowledge areas such
as sciences, technology and regulation.
The web-based knowledge management platform KMmaster® helps companies develop, collect, share and store knowledge, giving all participants the opportunity to transfer knowledge to other teams and departments. A continuing development of knowledge underpins organisational practices and structures.
The KMmaster® Life Science Edition offers clients a tool to meet quality control criteria by:
Standard Operating Procedure (SOP) Management
Quality Forms Management

Training courses covering SOPs and Quality Forms

21 CFR Part 11 compliance

Integrated audit trails

User authentication

Version control (customised system) and review process

Document linkage

Task prioritisation and notifications

Customised workflows and roles

Integrations of external users by communities

Advanced search (full text search and search filters)

Expandable to other life science processes such as GxP
Pumacy Technologies AG
Bartningallee 27
10557 Berlin

+49 30 2216128-0


kontakt(at)intakt-lifesciences.de